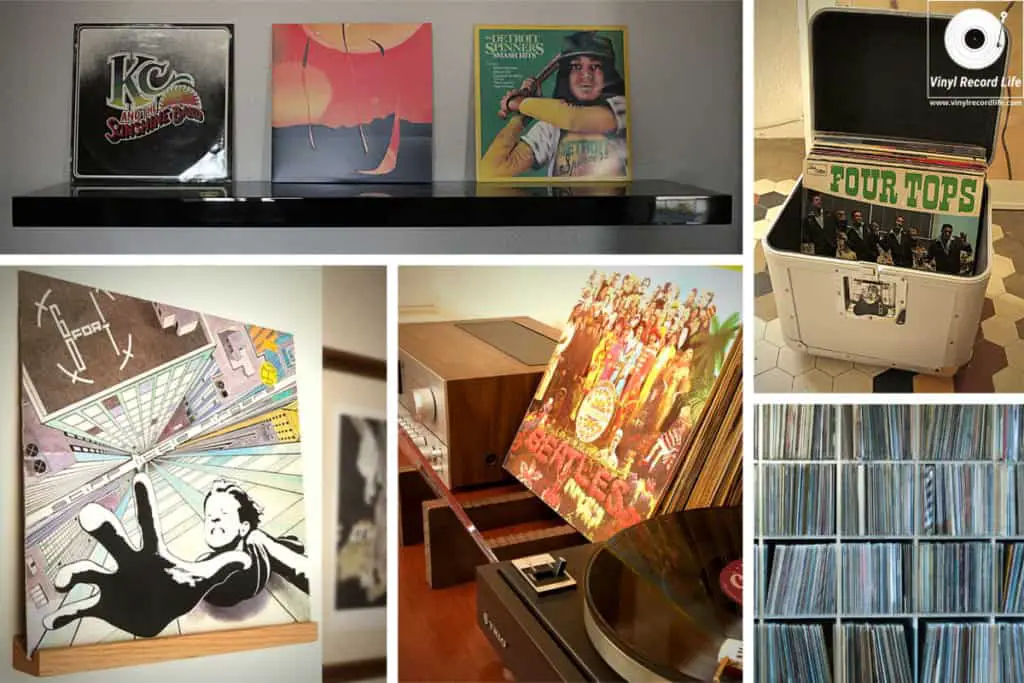 Records don't just sound great, they often look great too, which is why making a display of the artwork on the covers of your collection is part of many vinyl lovers' ritual.
If you're looking for some inspiration when it comes to displaying your vinyl collection, there are a wealth of ways in which you can do it, from the simple and basic to the more elaborate and creative.
You may be all about the aesthetics and want to display your records in a visually striking manner, or perhaps you want something much more utilitarian but which still looks great. Maybe you want a combination of style and function.
Whatever your preference when it comes to putting your records on show, I've got all angles covered here with a comprehensive list of various ways in which you can display your record collection!
I've grouped display possibilities into 11 main categories below, with examples and various budget options for each different method. Let's dive in…
1. Floating Display Shelves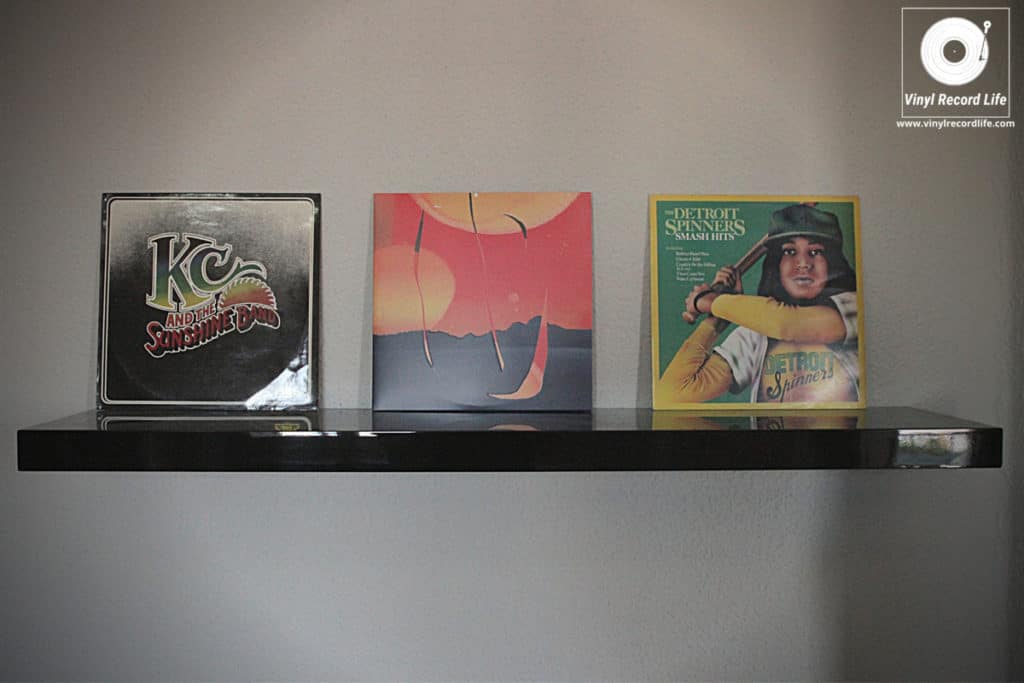 The starkness of a floating shelf or case in the middle of a wall really helps make a bunch of records stand out. You may be tight on space, in which case this can be a neat fix, or perhaps you want to work a floating shelf around some other wall decorations or displays.
With a floating shelf you can display a small selection of records (as per the above photo), or with a floating case you can usually hold around 20-25 records, and with one record facing out you can regularly change whichever record is at the front for a bit if variety on your display.
Check out these two sleek options:
2. "Invisible" Mounts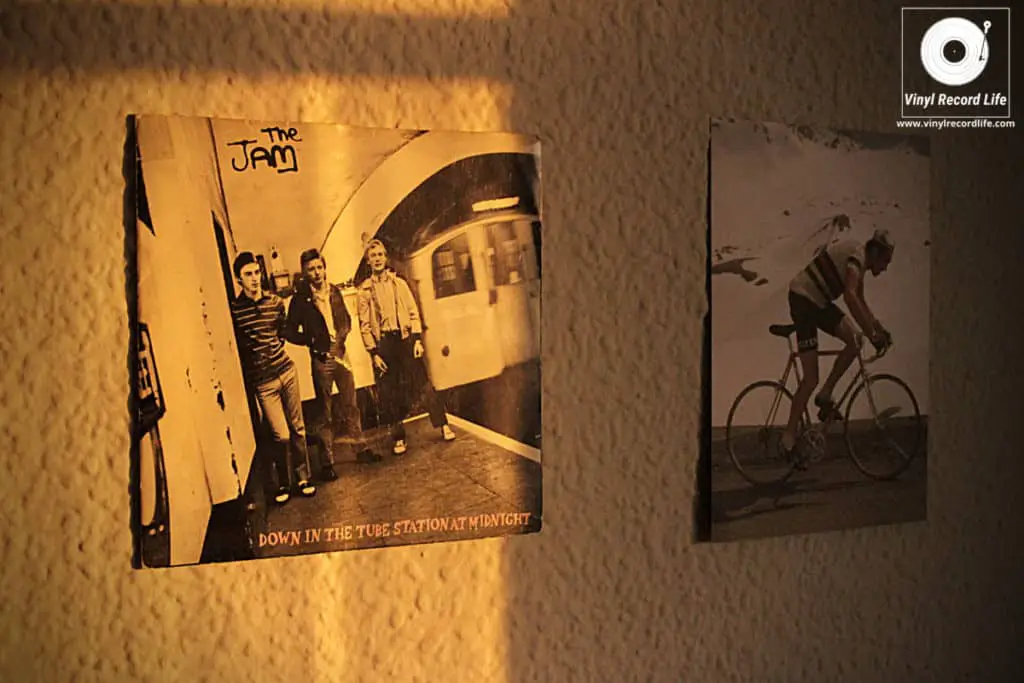 If you like the floating shelf option, but want to go more minimal with your record display, then "invisible" mounts could be for you.
Whether it's a single record or a select group of discs, you can build this display out as much as you want to and in any pattern that takes your fancy.
There are various versions available, from those which display just the artwork to those which allow you to perch your record's artwork behind the disc for an even more complete display.
Twelve Inch's magnetic-backed solution is smart and stylish as an artwork-only display, and I'd recommend sticking with something like this, as the "exposed disc with separate artwork" can leave your record open to attracting dust etc.
3. Record Ledges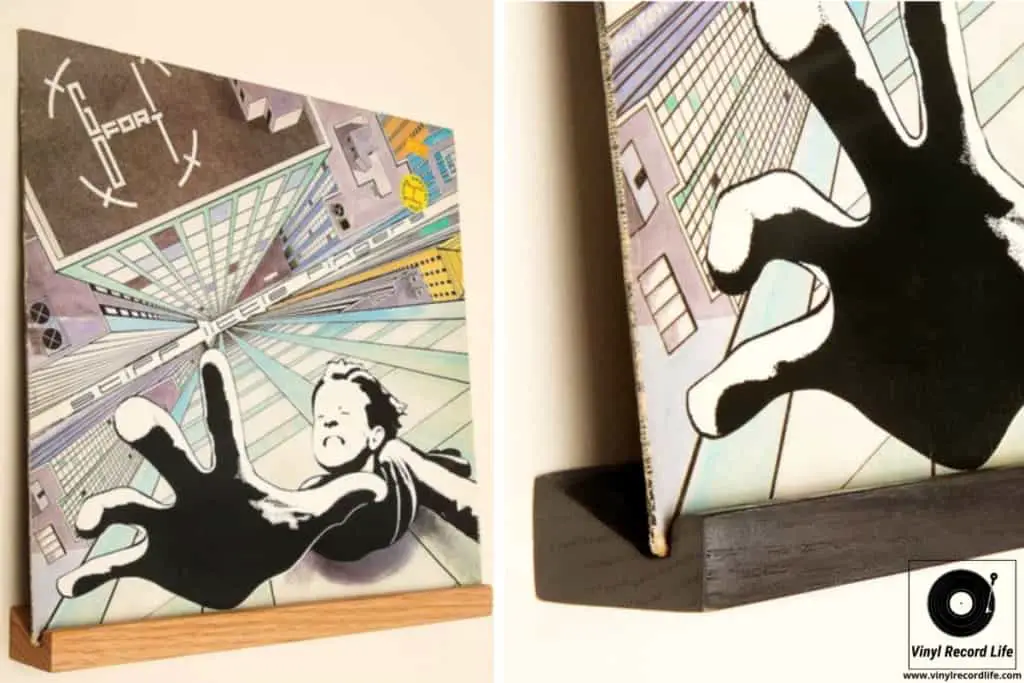 Another great minimalist and "invisible" option, ledges may only hold a single record and therefore not the quantity that other solutions can, but they sure do display your prized possessions in a classy way.
Ledges come in a range of materials, so price, quality and finish can vary vastly, but this also means there will be a solution for every taste, budget and demand.
With the different styles, you can often find a ledge that suits the look you're going for perfectly. You can also have as few, or as many, as you want so creating a gallery-style display to your exact requirements is easy and straightforward.
A couple of cool possibilities that I like the look of:
4. Record Walls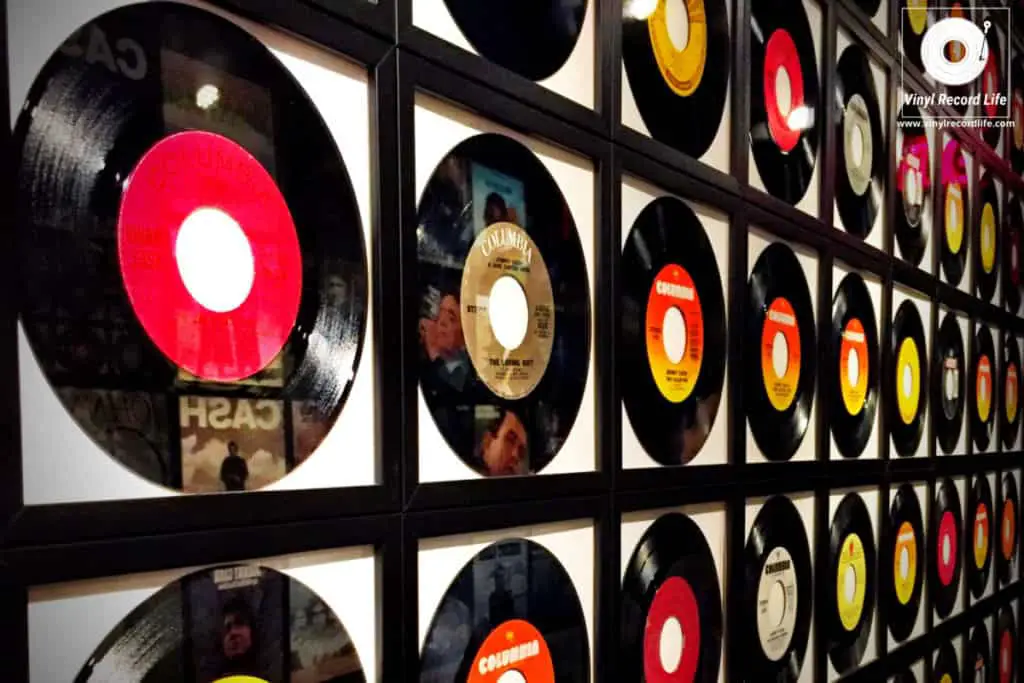 The great thing about working up your own record wall is the ability to change the records on display, and it also means you can match your display to your current listening mood.
Wooden ledge solutions mean you can add a discreet touch of dark oak or light pine, or whatever works best with your wider furniture stylings, and are basically longer versions of the single record ledges mentioned in tip #3.
You can keep it minimal with as few as just four records with a single row from Northern Pine Goods' Storage Shelf, or you can add further rows for a full wall display.
You could also go for a fabric material modular system like that of Record Roots. These options give you great adaptability in expanding your record wall display if you feel like adding to it at a later stage.
5. Single Record Stands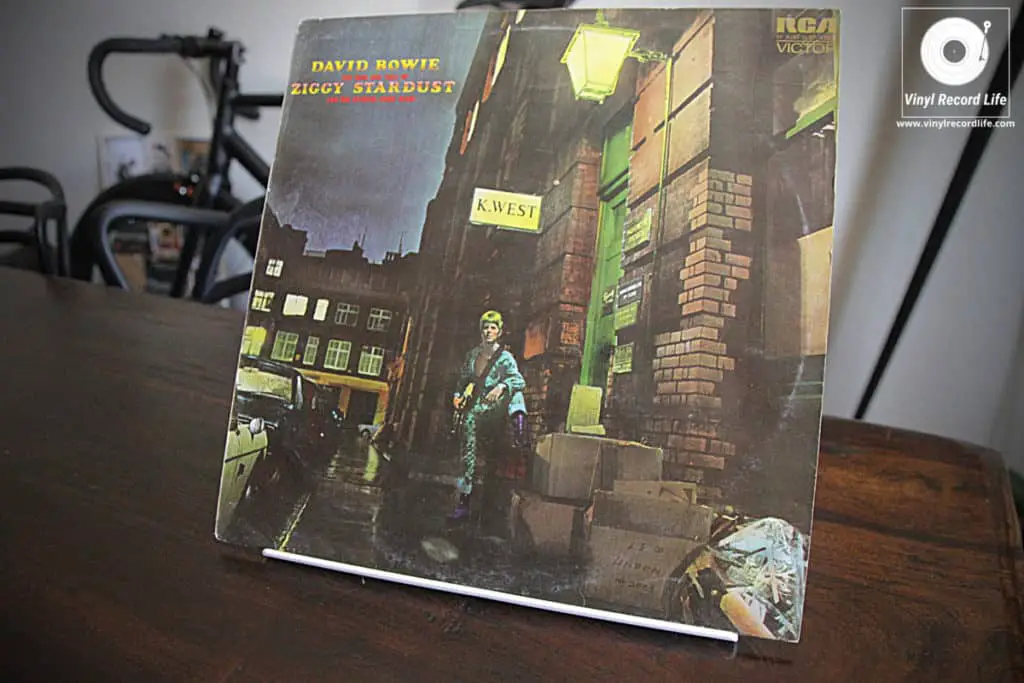 If, like me, you like to make an occasion of getting some time to sit down and play some records, then a single record stand really adds to the pleasure of admiring a record's artwork while you're listening.
A "now playing" stand can also just hold a single record on display on a desk or on top of a piece of furniture if you want. Either way, stands are another display solution with a multitude of uses.
6. Record Holders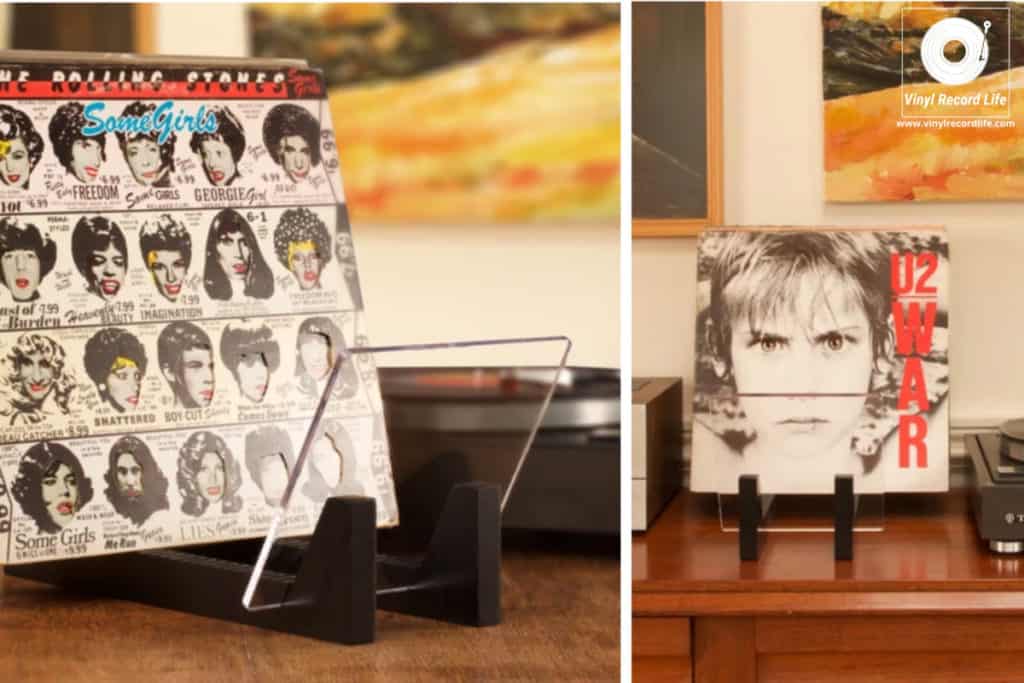 Record holders act like a rack and can come in various formats, shapes and sizes. They can slot in to plenty of spaces around the home and they display the artwork of records nicely, and they're also easy to sift through when perusing which album to pull out next.
KAIU's a brand I really like, for their simple but cool design and the fact they're very reasonably priced, and their Vinyl Record Holder is an awesome way to display up to 50 records with minimal clutter.
Hudson Hi-Fi's Desktop display is also pretty cool, and reminds me of the old toast holders you'd see in hotels as a kid! Maybe it's just me. Anyway, it's a sleek display solution!
7. Frames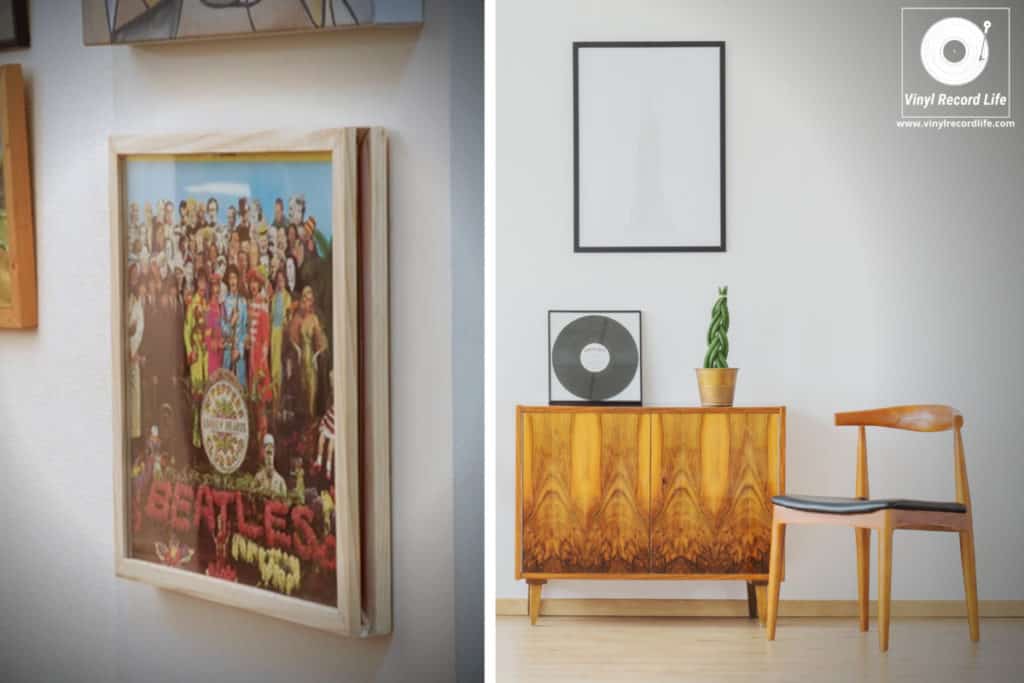 Perhaps one of the most old school, straightforward display methods out there, but one that never fails to make a special record stand out is a trusted frame.
There are some really solid cheap frames that do a great job, such as IKEA's Lomviken, while I really like KAIU's Vinyl Record Frame for its hinge opening, meaning you can switch records in and out whenever you like.
If you've got a special or limited edition record that you want to go all out with in terms of presentation, then a gatefold or deluxe frame such as MCS' offers the opportunity to display a record and its cover together.
8. Bins & Crates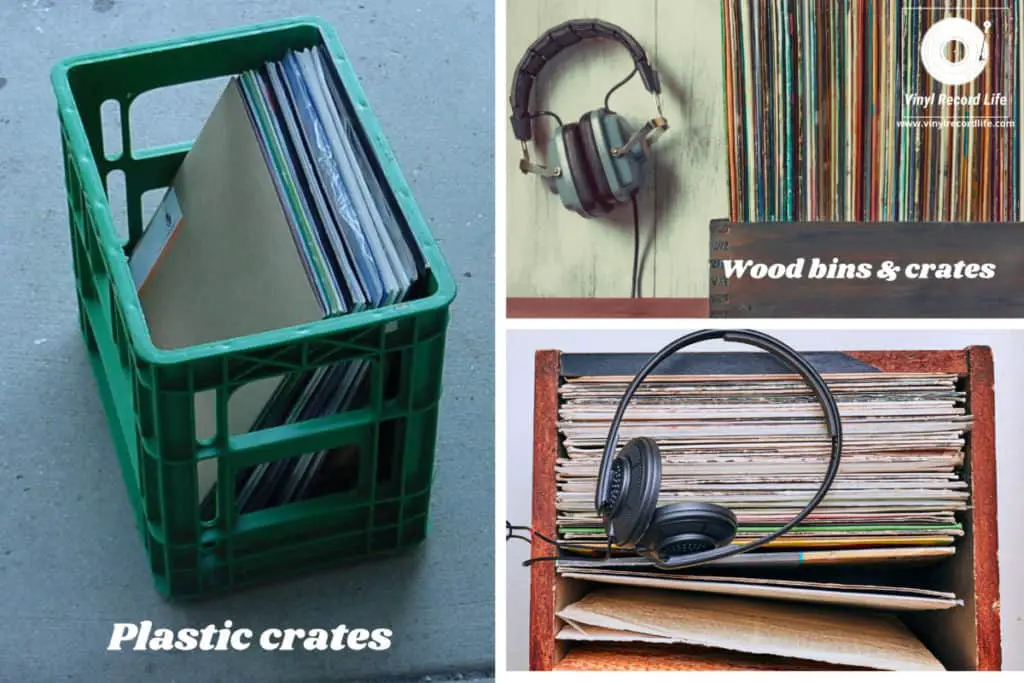 Crates can be as fancy and stylish or as basic and brutal as you want!
An old wood or plastic crate can be found for next to nothing on eBay or Craigslist, and can provide a shabby chic touch to your display. If you go higher end, you can get personalized and luxury versions such as Symbol Audio's stunning Dovetail Record Crate.
Record bins can offer an easier access option too. Flipbin's Model 33 listed below has an open front, so your display has an even more practical touch.
9. Open Shelving Units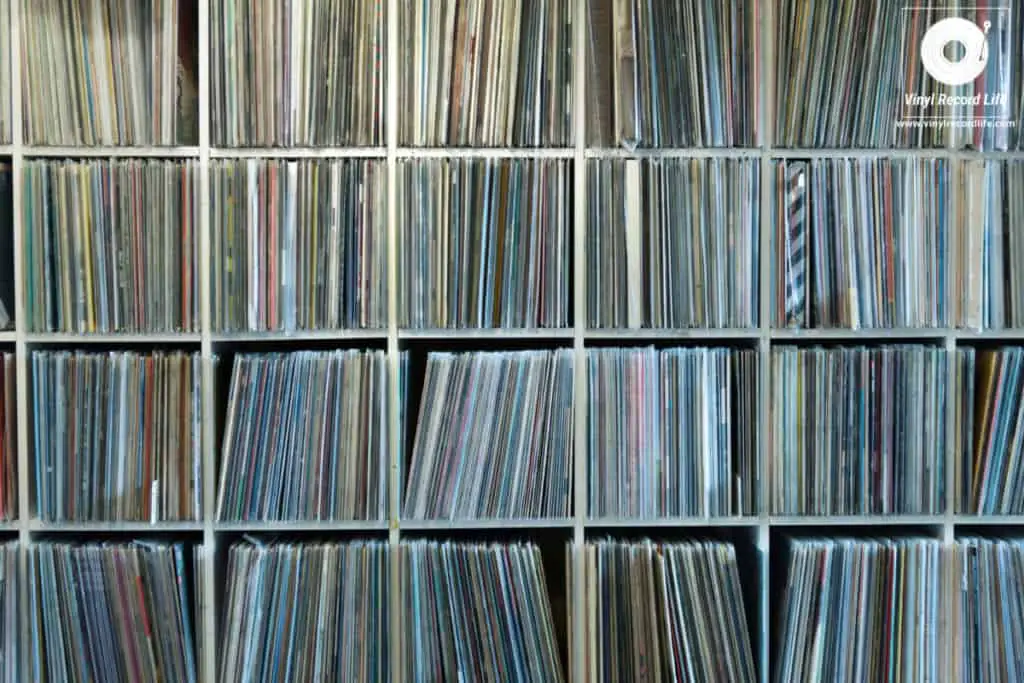 Simple form and function is a great way to go about things if you've got more than just a few records and the space for an open-shelving system, which helps you display your records in an organized manner.
The beauty of open shelving is that it's a neat and tidy solution to displaying records, and it also makes your collection easily accessible. Your records look cool all lined up and you can have them spine-out for easy locating with dividers. As long as you've got your records in good protective covers, then they'll be guarded against dust etc.
IKEA's Kallax is something of a longstanding veteran in this area, and is a great option for its flexibility and low cost. With its modular nature you can go big, small, in between, and have sections with doors and/or drawers.
I own two of these and counting up my collection on the Kallax, 75 12" records fit snugly into each cube, which makes for a decent cost-effective solution. It's not the most stylish option out there, but it's simplicity mean it blends in most places nicely.
Other options that have caught my eye and which look great are Hammacher Schlemmer's The Aficionado's 800 LP Organizer, which is another well-priced product for the quality and storage capacity, while Divider Records' beautiful Bedford Storage Unit is a fair bit more expensive but brings a whole different level of design with a selection of high-quality finishes, not to mention superior build quality.
There are a lot of open-shelving units out there that are either specifically made for records, or which can be appropriated for this purpose, but these serve as some great inspiration.
10. Cabinets and Media Consoles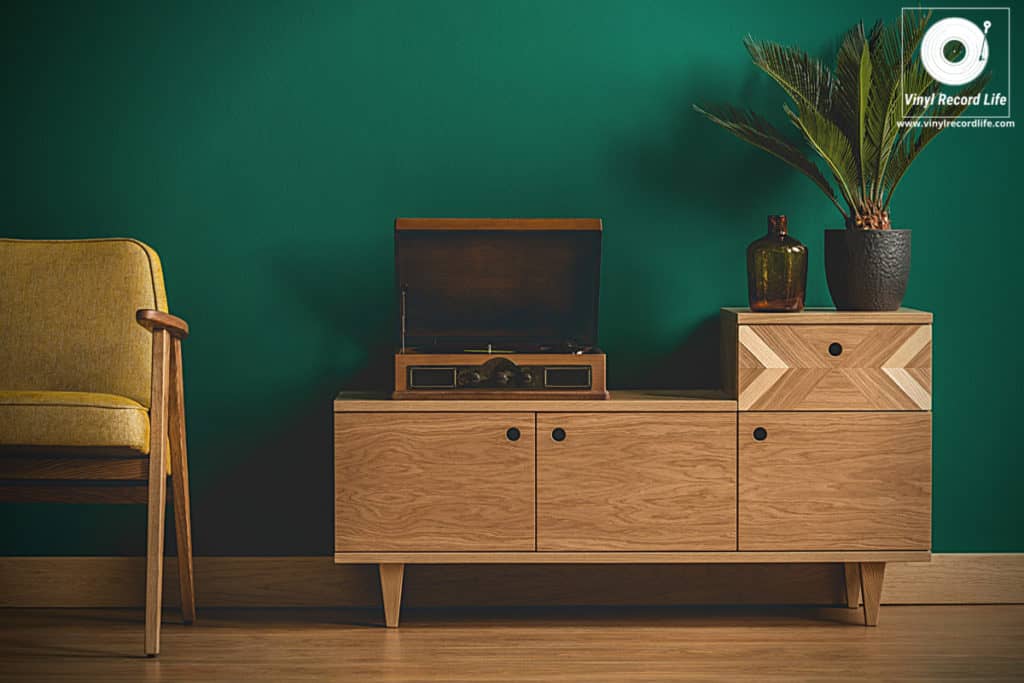 A dedicated record cabinet or media console is a great option if you want to integrate your record display into the overall design scheme of your living space.
With good storage capacity, and often with space for a turntable or record player and sometimes a few other decorative elements on top, there are some good affordable options out there from the more slim-line Novogratz Concord Turntable Stand, through to wider and higher capacity cabinets or sideboards such as Urban Outfitters' Ema Low Credenza.
A unit with doors means you can have a piece of furniture that can fit more seamlessly into an overall look you may be going for, while those without doors will offer the same accessibility as open-shelving options discussed earlier.
There are also units out there that will combine storage sections that have doors and those that don't.
11. Flight Cases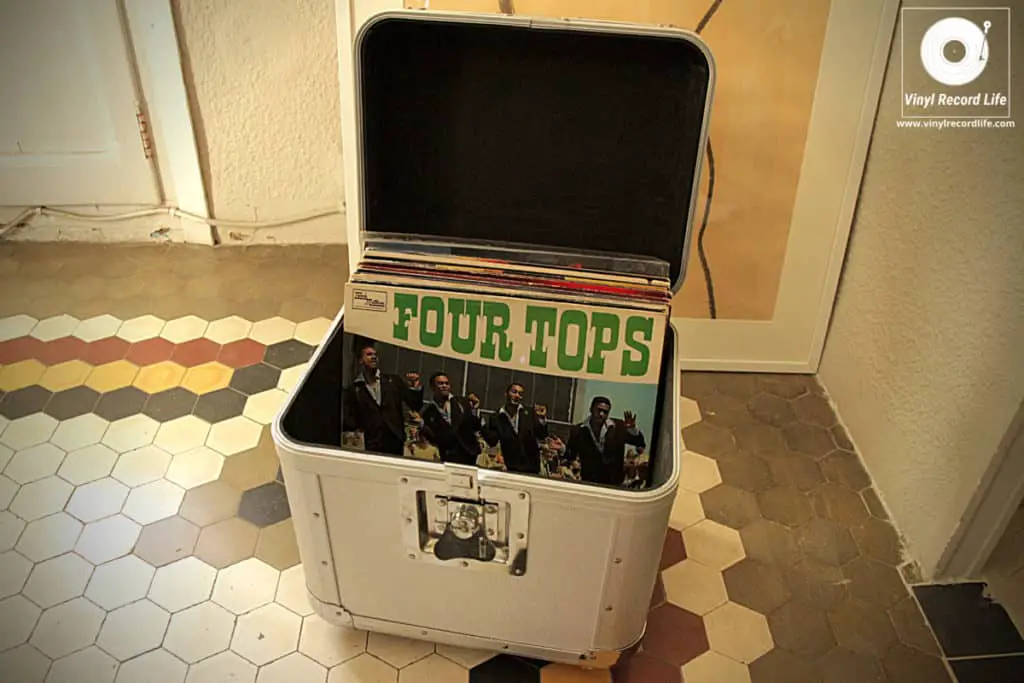 Flight cases are a more industrial route to go down for your record display, but they look good and serve more than one purpose in the eventuality that you need to transport part of your collection at any point.
I've got a pair of Citronic CVA50 cases (photo above!) which saw part of my record collection safely through an international move, and while these seem to be hard to come by online now there are other options such as Odyssey's Transport Case (see below), which have detachable lids to make an open display.
Key Things Record Display Storage Should Do
Whatever option or combination of methods you opt for, there are a few key points that any kind of record display – whether it be display-led or otherwise – needs to fulfil.
Your records need to be protected, however you decide to display them, so any method you employ should ensure the following points are taken fully into consideration:
Light – Don't place your display in direct sunlight, as that'll help bring your records to a sad demise in super quick time.
Temperature – Keeping your records in a place where they won't encounter heat or cold extremities is important. Cooler temperatures reduce the rate at which a record will degrade.
Humidity – Your records need to be displayed in a place where they won't be exposed to humidity. A well-aired location is really important.
Cleanliness – Keeping your records inside their protective covers and sleeves when on display is important, as is keeping things dust-free and clean.
Weight and Pressure – Never stack records on top of one another when displaying them. Ensure they're always displayed upright and don't have anything leaning against them.
Keeping your records cool, dry, out of direct light and clean when displayed won't just help protect them, it'll keep them sounding great for longer too!