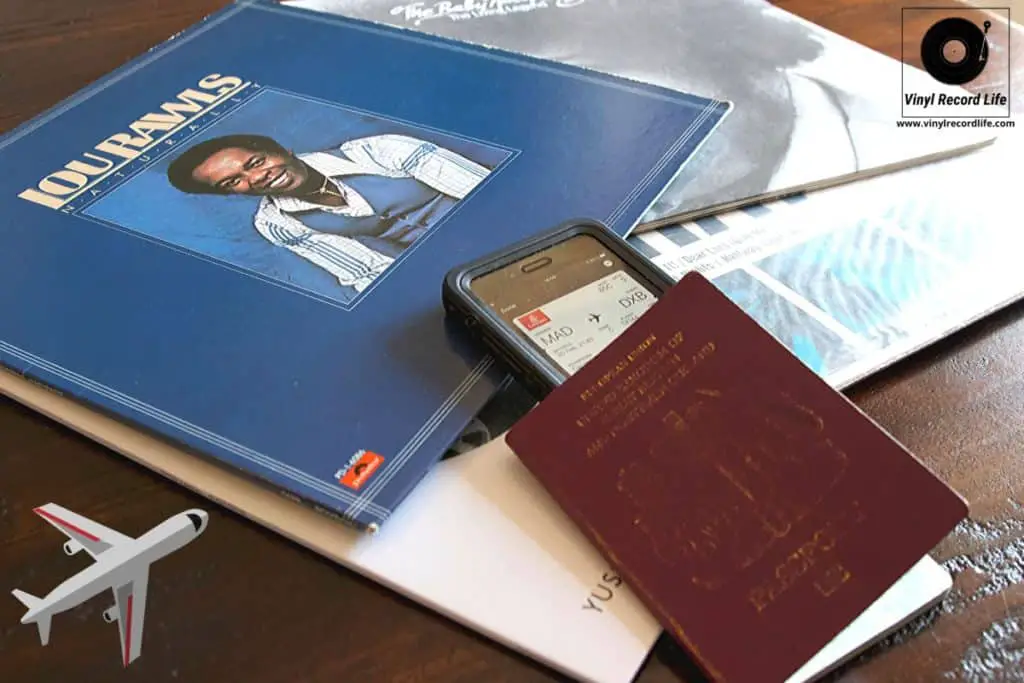 A trip just isn't complete without squeezing in a quick visit to a local record store or two if you've got the time, right?
If you make any purchases though you might be wondering how best to get them home safely, and if you happen to be flying you may well have pondered if you can bring those records onto an airplane.
You can take vinyl records on a plane. Vinyl records are a TSA-permitted item for flying, and you can pack them as either carry-on or hold luggage, as long as you obey the dimension and weight restriction policy of the individual airline with which you are travelling.
I've travelled a number of times with vinyl records, both as carry-on and in my checked luggage (although I don't recommend packing any records in the hold – more on that later), and have never had any issues.
I've always travelled light, transporting a handful of records rather than a large quantity, and I'd recommend this as being an important factor in successful air travel with vinyl.
There are different specifications and policies from airline to airline when it comes to the weight and dimensions of your luggage, so it's imperative you check these out carefully before you travel. More info on that below…
Travelling by Air with Vinyl Records: Is Carry-On or Checked the Best Option?
The answer to this question will depend on one major factor: How many records are you carrying? The number of records you want to take on the plane will determine their volume and weight, and this will then dictate your options.
Go For Carry-On, If You Can
I would always advise going for carry-on whenever possible, as this way the records remain in your possession and control, but of course this may not be possible if the weight and/or volume dimensions of the records you want to transport exceed the carry-on allowance.
Records often have a monetary and sentimental value, and this is one of the main reasons I always ensure I'm not transporting more than I'd be allowed to carry-on. I want those records in my line of sight for the entire journey!
If you're taking your records as carry-on, be prepared for an inquisitive airline agent at both check-in and the gate, as I've often been asked to verify weight and dimensions of my carry-on at both these steps of the flying process. Make sure you're within the airline's stated weight and dimension restrictions for carry-on, otherwise you could face fees at the gate.
How to Be Fully Prepared for Luggage Restrictions
The carry-on and checked restrictions really do vary from airline to airline, domestically and internationally both in the US and Europe, so here are two handy tables that outline the key info for five of the biggest and most commonly used airlines on both sides of the Atlantic:
Domestic & International Checked Baggage Size and Charges
| | | | |
| --- | --- | --- | --- |
| Airline | Checked Bag Size | Checked Bag Weight* | First Checked Bag Fee* |
| American Airlines | 62 inches / 158 centimeters | 50 lbs / 23 kg | Domestic from $30 / International from $0 |
| Delta | 62 in / 158 cm | 50 lbs / 23 kg | Domestic from $30 / Int'l from $0 |
| Southwest | 62 in / 158 cm | 50 lbs / 23 kg | Free |
| United | 62 in / 158 cm | 50 lbs / 23 kg | Domestic from $35 / Int'l from $0 |
| JetBlue | 62 in / 158 cm | 50 lbs / 23 kg | From $35 |
| British Airways | 35.5 x 29.5 x 16 in / 90 x 75 x 43 cm | 50 lbs / 23 kg | Free |
| Lufthansa | 62 in / 158 cm | 50 lbs / 23 kg | Free |
| KLM | 62 in / 158 cm | 50 lbs / 23 kg | Free |
| Ryanair | Starting at 22 x 16 x 8 in / 55 x 40 x 20 cm | Starting at 22 lbs / 10 kg | Starting from €10 |
| easyJet | 108 in / 275 cm | Starting at 33 lbs / 15 kg | Starting from €9 |
*Depends on class of travel and/or destination. Check the airline website for specifics. This data was correct and independently researched as of October 19, 2022.
Domestic & International Carry-On Baggage Size and Charges
| | | | |
| --- | --- | --- | --- |
| Airline | Carry-On Bag Size, one piece* (including handle and wheels) | Carry-On Bag Weight | Carry-On Fee |
| American Airlines | 22 x 14 x 9 in / 56 x 36 x 23 cm | N/A | Free |
| Delta | 22 x 14 x 9 in / 56 x 36 x 23 cm | N/A | Free |
| Southwest | 10 x 16 x 24 in / 25 x 40 x 60 cm | N/A | Free |
| United | 9 x 14 x 22 in / 22 x 35 x 56 cm (in Basic Economy carry-on is not allowed, only one "personal item") | N/A | Free |
| JetBlue | 22 x 14 x 9 in / 56 x 36 x 23 cm | N/A | Free |
| British Airways | 22 x 18 x 10 in / 56 x 45 x 25 cm | Max 51 lb / 23 kg | Free |
| Lufthansa | 22 x 16 x 9 in / 55 x 40 x 23 cm | 8 kg | Free |
| KLM | 21.5 x 13.5 x 10 in / 55 x 35 x 25 cm | 12 kg | Free |
| Ryanair | 22 x 16 x 8 in / 55 x 40 x 20 cm | 10 kg | €6 – €20 |
| easyJet | 22 x 18 x 10 in / 56 x 45 x 25 cm | N/A | Free |
*Exceptions apply. Check the airline website for specifics. This data was correct and independently researched as of October 19, 2022.
One extra (and very important!) thing to always watch out for when carrying records internationally is import taxes, as you don't want to get hit with a bill upon landing when you go through customs.
Is it Safe to Take Vinyl Records on a Plane?
It's a logical question, given the somewhat fragile nature of records and their vulnerability if mishandled or badly packaged. If you pack your records carefully, taking them on a plane is a safe way to transport them.
Packing Your Records To Avoid Damage
The way in which you pack your records is of great importance. For carry-on a special record bag with padding and protection is a worthwhile investment, especially if you're planning on buying and carrying more than just a handful of records and when traveling is something you're going to be doing frequently.
Here's a small selection of options across different price points that could prove useful:
Bag
Price Level
Pros
Cons
Capacity (12″ records)
Link
Trunab Vinyl Record Bag
$
– Traditional record bag format.
– Shoulder strap and backpack option.
– Value.
– Doesn't fit some airline carry-on dimension restrictions.
Up to 60 records.
Magma LP Bag 40 II
$$
– Small and light.
– Extra pockets.
– Value.
– Some complaints over shoulder strap.
– Fits less record than some cheaper options.
Up to 40 records.
UDG SlingBag Trolley Deluxe
$$$
– Premium.
– Trolley design.
– Fully airline carry-on compliant.
– Fits more than just records.
– Expensive.
Up to 60 records.
If this is a one-off trip though, you can just as easily purchase a cheap record mailer envelope such as this, or you can just ask the record shop where you've made your purchase to give you an old one as they always have some lying around.
This is a fast, easy and cheap option if you're just taking a couple of records on board with you and are comfortable carrying the mailing envelope under your arm or in a carrier bag.
If it's unavoidable for you to check your records in, then buffering them with bubble wrap and cocooning them within clothes and other soft items inside your suitcase is the only way to give them a chance of making it to the other side.
Ensuring they aren't rubbing against anything (or one another), that they aren't in contact with the sides of the suitcase and that they have something soft and that can absorb any shocks or bumps is essential. They need to be completely secure in position and unable to move.
I've done this with records a couple of times when I really haven't had any other choice, and my records made it through, but I go to every length possible to avoid this and take them as carry-on.
The added risks of your checked luggage getting lost, mishandled or worse just adds to the lack of confidence in this way of carrying your records on a plane.
My advice is that if you're dealing with a volume of records that surpasses carry-on restrictions, then looking into shipping is a more secure method. I did this when making an international move a few years ago, buying myself two Citronic CVA50 flight cases, carefully packing the part of my collection I wanted to ship inside them, locking them with TSA-approved padlocks and sending them via a carrier.
The Citronic CVA50 seems to be much harder to come by recently, but this Odyssey option looks pretty similar and at the time of writing was available on Amazon as a good alternative. Click here for a link to it.
Many airlines state that if the weight of any item exceeds 100 lbs (45kg) it must be shipped as air cargo.
One thing to remember before packing any records prior to travel, is to give them a good clean, especially if they are going to be packed or stored for a while after the journey is complete.
Airport Security Checks and Flying with Vinyl Records
Other concerns people tend to have around taking records on airplanes is possible damage relating to air pressure and security scans. Vinyl records aren't at any risk from air pressure, and the airport luggage scanners will not damage them either.
When it comes to security checks though, expect to be asked to open your carry-on luggage if you are traveling with vinyl records as security agents may want to inspect them. For checked luggage, always use a TSA-approved lock on your bag.
Whatever your final decision or choice on transporting your records, I hope this has helped answer whatever questions you may have had around flying with records. Happy listening!